Go to Google and type in your business name.
Most likely, on the right side of the page, you're going to see your business listing.
And most likely you'll see something like this:

I'm not sure how many reviews you have, but if you're like a lot of remodelers – you may have 0, 1, 2 or maybe 3.
Now look at this report from Houzz – Michael Stone linked to it the other day (what he wrote was really good by the way – read it here.)
Four in five renovating homeowners cite good reviews or recommendations as being very important when choosing service providers: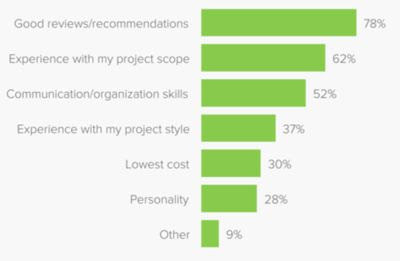 What this is saying is that online reviews are important.
And if you looked up your business and have 0, 1 or 2 reviews on Google – you need to work on that.
I have a nicely written email you can send to your clients that give them the steps for leaving a Google review for you.
If you'd like a copy of it just email me and I'll send it over.